How to do a Ring Removal Workshop?
Who shared this idea? Hélène Morakis

Editor: Henrique Herpich
We are very proud to announce the first post from the "EMIG Toolkit Project ?". For those who don't know about it, the ISAEM Emergency Medicine Interest Groups (EMIGs) Toolkit Project is meant to provide you with ideas and resources on how to form and develop your own emergency medicine student groups, as well as tips and suggestions passed on other established groups.
We will be sharing ideas for EM educational activities from international student EM groups..
The first one comes from Kingston, Canada. This workshop was mentored by Dr. Eve Purdy and Dr. Heather Murray back in 2016. We want to thank them both, as well as Hélène Morakis, student member of Queen's University Emergency Medicine Interest Group for sharing this with us.
? RING REMOVAL WORKSHOP ?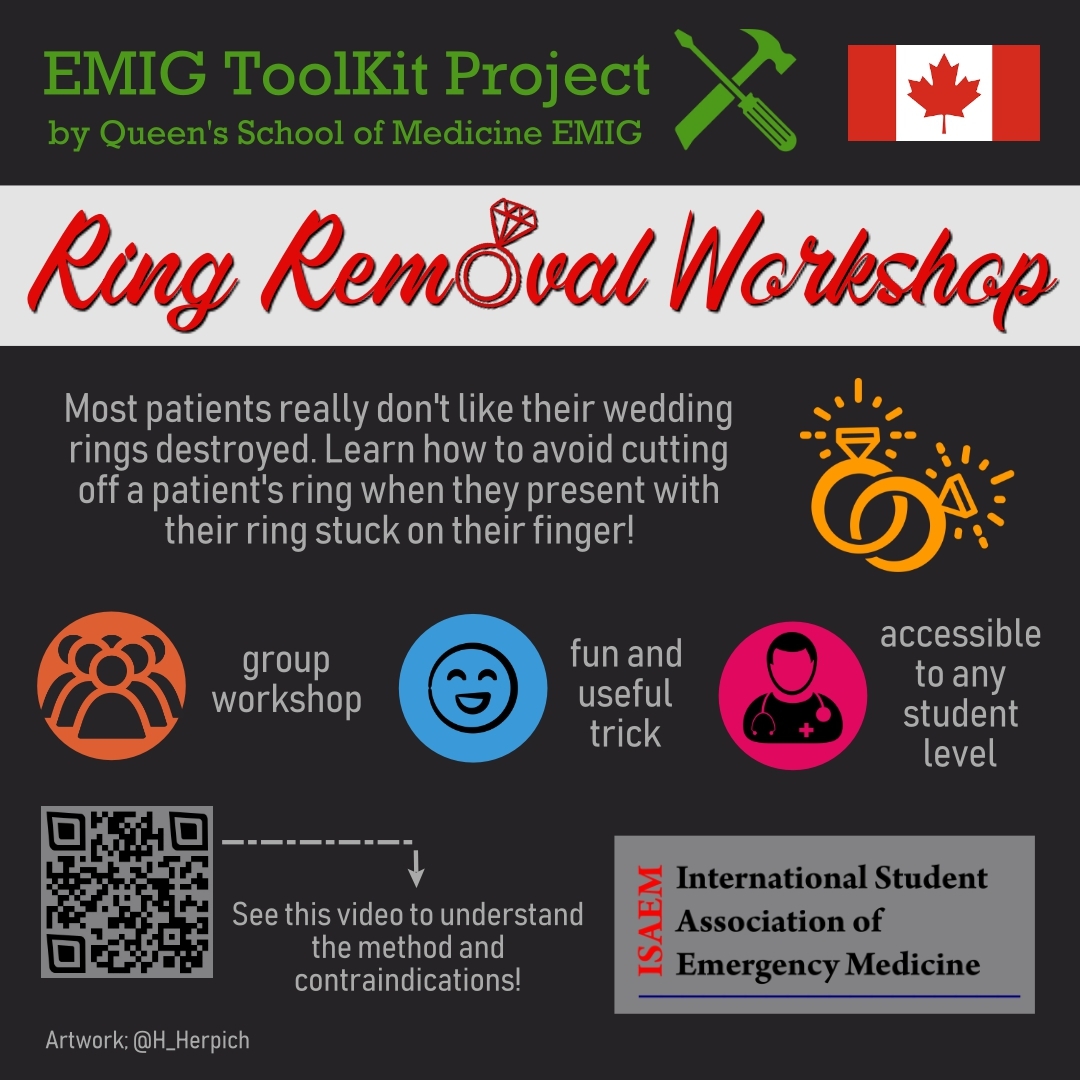 What is this EM Educational Activity? 
This is a ring removal workshop created to teach students about the techniques on doing this procedure in the emergency department. You can find further details about the practicalities of this activity in a post from St Emylys Blog.
What is the structure needed for this EM Educational Activity? 
? Support staff needed: 1 resident presenter, 1 student presenter, 1 staff presenter (could be flexible).
? Resources (equipment, cost, etc.): Ask participants to bring rings (not their favourites!) and provide elastics or oxygen mask elastics (if available) PLUS tweezers/needle pick ups. Could also experiment with soap/hand sanitizer.
How many participants could participate in this EM Educational Activity?
It's feasible with 20 or more students.
How should my group replicate this EM Educational Activity? 
Show this video to participants and explain the contraindications to this method.
Go practice! Have the participants practice removing rings off each other using the method shown by the video. Make them compare this method to the one using a lubricating agent (eg,. soap).
Don't forget to debrief about the activity at the end and make sure all the participants understood the method both in theory and in practice.
Shared Experience from the Queen's Emergency Medicine Interest Group:
"Practicing this hands-on trick was helpful to make students more comfortable to use this approach in the ED. Fun and useful practical workshop that is accessible to all medical students (at any level)."
---
? Are you leading an Emergency Medicine Interest Group? Also have an idea to share? We want to hear from you! Please fill out this form: https://bit.ly/2SyYWT3