Hombre de 42 años, con historia médica previa de alergias estacionales (ranitidina), se presenta al servicio de emergencias (SEM) con queja principal de hipertensión arterial. Recientemente el paciente adquirió un manguito para tomarse la presión arterial y notó que sus presiones se encontraban elevadas esta tarde (142/91mmHg, 147/88mmHg). Después de interrogarlo, el niega cefaleas, déficit visual, discurso limitado, dolor torácico, disnea y disminución del flujo urinario.
Signos vitales al ingreso: PA 145/91, FC 63, T 99.7 Oral, FR 16, SpO2 98% aire ambiente.
¿Cuál es el siguiente paso en la evaluación y el tratamiento?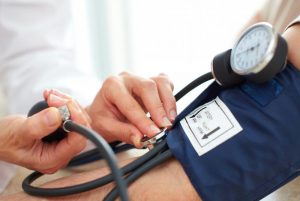 Respuesta: Hipertensión Asintomática1-5
Epidemiología: La hipertensión asintomática es la enfermedad cardiovascular más común en Estados Unidos (aproximadamente 73 millones de individuos). Cerca de 115 millones de las visitas al SEM (servicio de emergencias) son relacionadas al tratamiento de la hipertensión asintomática.1,2
Diagnóstico, evaluación y tratamiento:

De acuerdo con JNC8 (Octava reunión del Comité Nacional): Evidencia basada en las guías para el manejo de hipertensión arterial en adultos 2014 3 y políticas clínicas de ACEP : Enfermedades críticas en el manejo de pacientes adultos con hipertensión asintomática en el Servicio de Emergencias:4

Diagnóstico:

Dos tomas separadas de presión arterial en el SEM son adecuadas para la proyección de un paciente con presiones arteriales elevadas.

JNC recomienda tomarla con el paciente sentado con al menos 5 minutos de diferencia.
En el SEM: Evaluar los factores de confusión: Dolor y ansiedad.
Registros requeridos: >140/90mmHg en pacientes <60 años y 150/90 en pacientes >60 años. 3

Evaluación:

Existe Información limitada sobre la utilidad de la pesquisa de pacientes con hipertensión asintomática:4

Realice una historia clínica minuciosa; busque síntomas de daño a órgano blanco (cambios en la visión, confusión leve, disnea de esfuerzo u oliguria.)
Considerar estudios de laboratorio (uro-análisis, nivel de creatinina sérica, ECG) e imágenes (radiografía de tórax) hay pocos datos para la validación del uso de estas modalidades de evaluación. Si está considerando iniciar tratamiento, la creatinina sérica podría ser útil (Para uso de tiazidas.)

Tratamiento:

JNC8: "La presión arterial aislada, en ausencia de síntomas y daños a órganos blanco, rara vez requiere terapia de emergencia…u hospitalización… pero los pacientes si deben recibir terapia antihipertensiva oral (no de emergencia).

Actualmente no hay evidencia que sugiera que los pacientes se beneficien de una rápida disminución de la PA en el SEM (Varios estudios de casos identifican resultados pobres: hipotensión, IM, accidente cerebrovascular y muerte)4

Recomendaciones de JNC8 :

PA meta:

< 150/90 mmHg en pacientes >60 años
<140/90 mmHg en pacientes de entre 18 y 59 años sin grandes co-morbilidades y pacientes >60 años con diabetes o enfermedad renal crónica (ERC).

Farmacoterapia:

Pacientes afroamericanos sin ERC: Bloqueadores de canales de calcio (BCC) y tiazidas.
Pacientes con ERC: Inhibidores de la enzima convertidora de angiotensina (IECA) y bloqueadores de los receptores de angiotensina como tratamiento de primera línea.
Pacientes >75 años con ERC: BCC y tiazidas – evitar IECA y bloqueadores de receptores de angiotensina por el riesgo de provocar hiperkalemia e insuficiencia renal.
El resto: Iniciar diuréticos tiazídicos, BCC, IECA o bloqueadores de receptores de angiotensina.

Perlas:

Actualmente no hay evidencia que proponga un manejo apropiado de la hipertensión asintomática en el SEM: el papel del médico en urgencias=> identificar al paciente con presión arterial elevada, iniciar terapia antihipertensiva oral según corresponda y referir al paciente para que tenga un seguimiento inmediato.
Link Original: EM Docs
Autor: Erica Simon
Traducción: Shamila Kourbanov Steller
Revisión: David Díaz Figueroa
Edición: Henrique Puls, Hélène Morakis
Referencias
Lloyd-Jones D, Adams R, Carnethon M, et al. Heart disease and stroke statistics–2009 update. A report from the American Heart Association Statistics Subcommittee. Circulation. 2009; 119:e21-e181.
Nawar E, Niska R, Xu J. National Hospital Ambulatory Medical Care Survey: 2005 emergency department summary. Adv Data. 2007: 1-32.
James P, Oparil S, Carter B, et al. 2014 Evidence-based guideline for the management of high blood pressure in adults. Report from the panel members appointed to the Eighth Joint National Committee (JNC 8). JAMA. 2014; 311(5):507-520.
Decker W, Godwin S, Hess E, Lenamond C, Jaboda A; American College of Emergency Physicians Clinical Policies Subcommittee on Asymptomatic Hypertension. Clinical policy: critical issues in the evaluation and management of adult patients with asymptomatic hypertension in the emergency department. Ann Emerg Med. 2006; 47(3): 237-249.
Marmon J, Green L, Levine D, et al. Using the emergency department as a screening site for high blood pressure. A method for improving hypertension detection and appropriate referral. Med Care. 1987; 25: 770-780.